https://www.youtube.com/watch?v=fCqA5VAcBhg
Dansk udviklet og patenteret
ICEFIX®
Rethinking instant disposable cold packs for pain relief
PROFILE
ICEFIX was founded on the basis of a radical product innovation within disposable instant cold packs, which has disrupted a mature and highly commoditized market. Thus, based on our global patent ICEFIX has in record time become a manufacturer and supplier of instant disposable cold packs to the worldwide markets.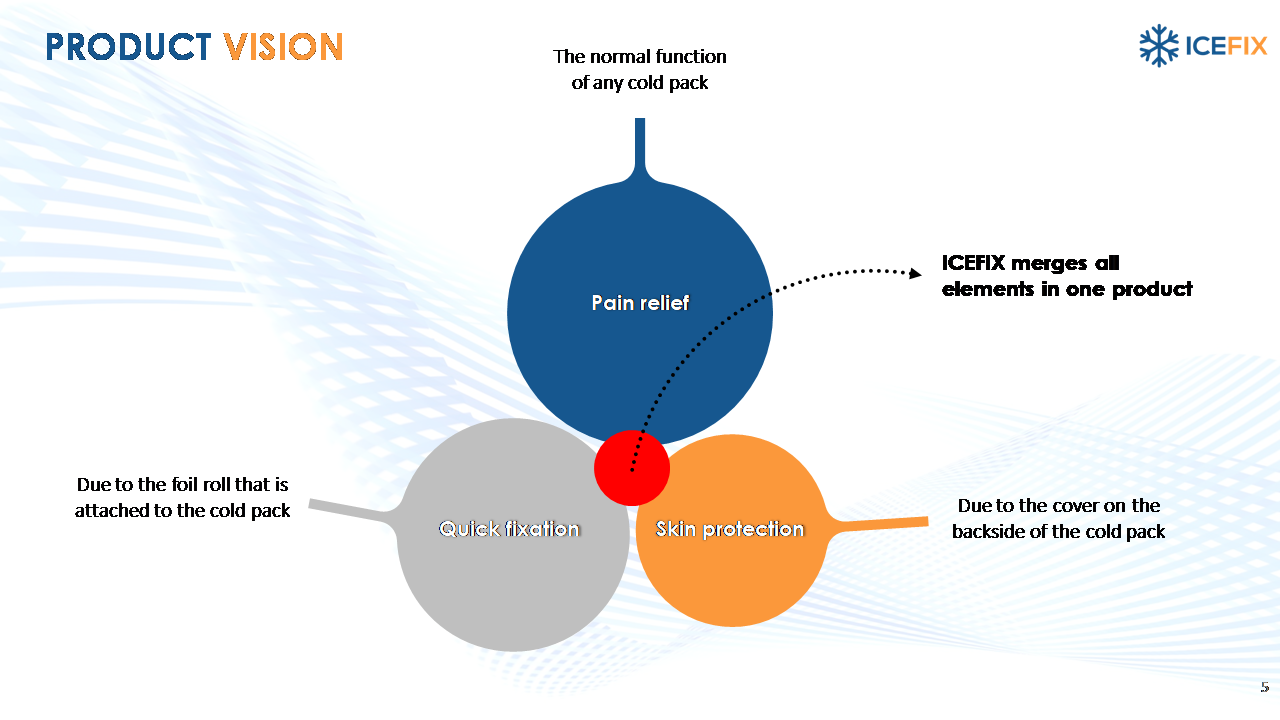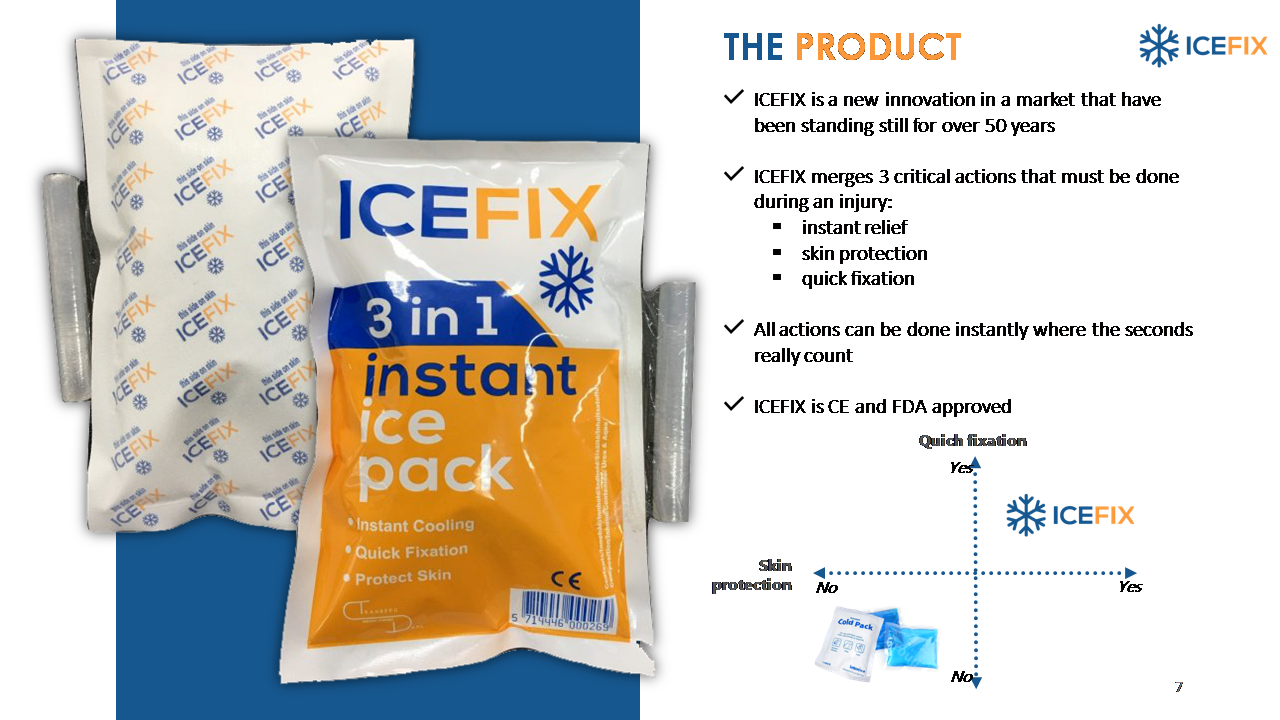 MARKETS
In accordance with our business strategy, ICEFIX is transforming the market dynamics from a low cost play to differentiation, and thus we offer a value-added disposable ice pack to the mass market.
Hospitals need our products for their emergency rooms and in their sports surgery sections
Retail (supermarkets and sport shops) are positioning our products as high-end, simple-to-use offerings as a substitute to the traditional disposable cold packs
Sport and health clubs have accepted our products as an obvious replacement for either the traditional disposable cold packs or to replace the old ice-cubes-in-a-plastic-bag method
Civil and armed forces has welcomed ICEFIX with open arms since traditional disposable cold packs have been too troublesome in their situation where time is a scarce factor. Many disposable cold packs are used during exercises and operations
RESPONSIBILITY
Corporate responsibility at ICEFIX is anchored in our core values of integrity, trust, adaptability, and innovation. Our innovative 3-1 ice packs are developed to help people with the fastest possible treatment of their injury independent of location and circumstances.

Besides, we have a strong commitment to the local society by contributing to local sport initiatives, responsible business and partnership alliances, responsible sourcing, philanthropy and successful employee retention among other programs to have a positive impact on our employees, suppliers, customers, and communities.
COMPETITIVE STRATEGY
To cope with the global competition and to enhance our unique competing space, ICEFIX has adopted a differentiation strategy that clearly offers value-added product features in a market that has seen no remarkable innovations for decades. ICEFIX's value proposition appeals to the broad mass markets within healthcare and sport health that see the benefits from the 3-in-1 approach.
FAQ
Q: Is ICEFIX CE and FDA approved?
A: Yes
Q: Can you produce in high volume?
A: All the quantities you need
Q: Can I engage as distributor or agent?
A: Please contact us on info@icefix.dk for an evaluation
Q: Where do I purchase ICEFIX?
A: Please contact us on info@icefix.dk
Q: What is the price of ICEFIX?
A: Please contact us on info@icefix.dk
THE ICEFIX HISTORY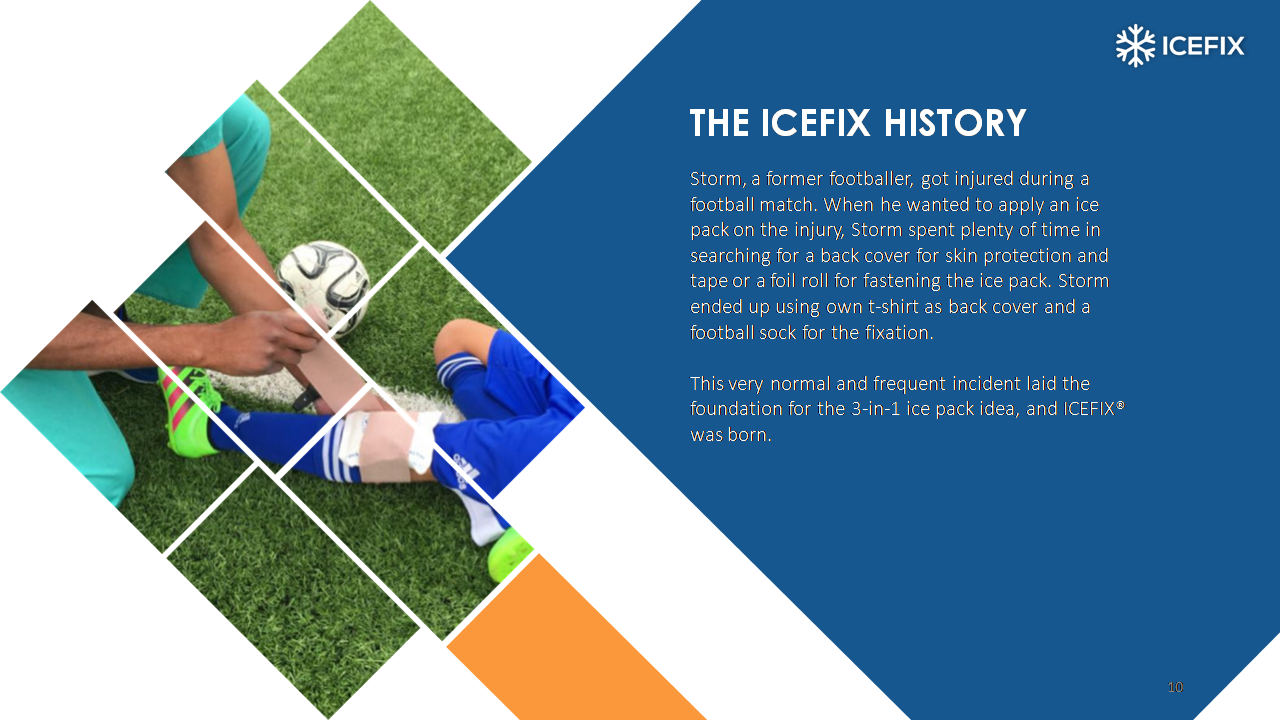 Storm, a former footballer, got injured during a football match. When he wanted to apply an ice pack on the injury, Storm spent plenty of time in searching for a back cover for skin protection and tape or a foil roll for fastening the ice pack. Storm ended up using own t-shirt as back cover and a football sock for the fixation.
This very normal and frequent incident laid the foundation for the 3-in-1 ice pack idea, and ICEFIX® was born.
DISTRIBUTORS WANTED!
contact: +45 2082 8150
mail: info@icefix.dk